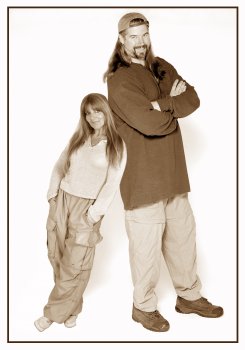 Established in 2000' and based in Ely' Minnesota at the edge of The Boundary Waters Wilderness Area' our record label, Spiritwood Music, was formed to produce acoustic music that is still pure and true and always respectful of its roots (which are as diverse as you can get). American roots music blends styles and rhythms and traditions from around the world – a great patchwork quilt of sound. And just like the components of a hand-made quilt' all the pieces of this sound vary as much as the people and scenery of our country – but they join together to create something warm and wonderful that covers us all. Spiritwood Music is America's music…the sound of where we came from' where we are going' and who we are.
From our popular Remember When Songwriter Series - Songs of the 60s and 70s to our vast Instrumental catalog, Spiritwood Music offers a great diversity of music genres. Here you will find the music you love, whether it is Traditional Gospel or Contemporary Christian - Folk, Celtic, Bluegrass, or for Little Folks. We are very proud of our selection, and grateful for our fans' support and participation. We have listened to your requests, and have enjoyed the journey those roads took us down.
We are old school. Each music project is approached the way it was before all of the new technology - (although we do embrace aspects of this technology - witness our iPat MP3 Player). A great deal goes into every recording. Each project is keenly developed by our founder and producer, Pat Surface. We perform and record with Grammy Award-winning musicians, Minnesota State Fiddle Champions, and esteemed and recognized instrumentalists in different styles of music. We work in state-of-the-art studios, with the best equipment - all to capture the pure sound of real instruments and captivating vocals. As a record label, we do acknowledge how galloping technology has delivered music to countless more people. But we are aware of the pitfalls of this technology, and are careful not to let it diminish our product. Even the mp3s we upload onto our iPats are large music files from our masters with superior sound quality - not the compressed inferior sound that is downloaded off the internet. Yes, we are old-school - music enthusiasts. We love music. It is what we do.
We have produced and private-labeled albums for such vital organizations as PATH - a non-profit company that works with foster and adoptive families (see Pat's Story). Many of our a projects benefit causes we are passionate about, including fighting Alzheimer's Disease - and The Spiritwood 'Forget Me Not' Foundation. We are active environmentally, and support wilderness, wildlife, and conservation organizations such as The North American Bear Center, The International Wolf Center, and the Will Steger Foundation. Our packaging is made from recycled and recyclable materials.
Spiritwood Music not only produces CDs, but award-winning DVDs as well. We distribute our CDs and DVDs nationally; both retail (at concerts' festivals' and other events we perform at) and wholesale (at specialty gift and niche shops). All of our music, (along with our DVDs) is available on this website. You can purchase hard-copy CDs and DVDs, download our albums - or choose individual tracks to create your own special compilation. (On this site our downloads cost less than on sites like iTunes and Amazon.) And listen - free download sites are destroying the music industry. Someone has to make the music. If there is no compensation for the artists, how does music keep happening?
We are music-makers. Keep music alive.
---