Not only an MP3 player with great sound, it is also a USB Flash Drive!
Call to order - 218-349-7908
Custom loaded with the highest quality MP3 files from our sound masters - NOT from the internet!
If you love music - if it isn't like 'wallpaper' (just background) - then you will love our iPAT. The music you download from any internet site is compressed and inferior - not 'album' quality. We load your iPat with albums you choose - not from the internet - but from our album masters.
Get it FREE with a 5 album download purchase - Just $50 ($10 an album - Add additional albums for $5 each)
Comes in a gift bag and includes: Battery, Aux Cable for Car Jack & Speakers, Earbuds, Albums You Choose Loaded on Player, and Free Shipping
We Recommend: Songwriter, Songwriter Too, Songwriter Three, Songwriter IV, Songwriter V, Songwriter 6...
but you can choose any albums from our catalog (not including Day By Day).
Pat and Donna - my huge thanks for the advice on getting the Player. Your recommendation of what to load on it was absolutely perfect for my wife and me. Now we can listen to hours of Pat at will - and do it anywhere.
Thanks so much for your patient helpful advice!
Paul and Kitty Dunn
---
Quick Start - iPat Operating Instructions
To Turn On The iPat:
Hold down On/Off button on left - screen lights up 'Welcome'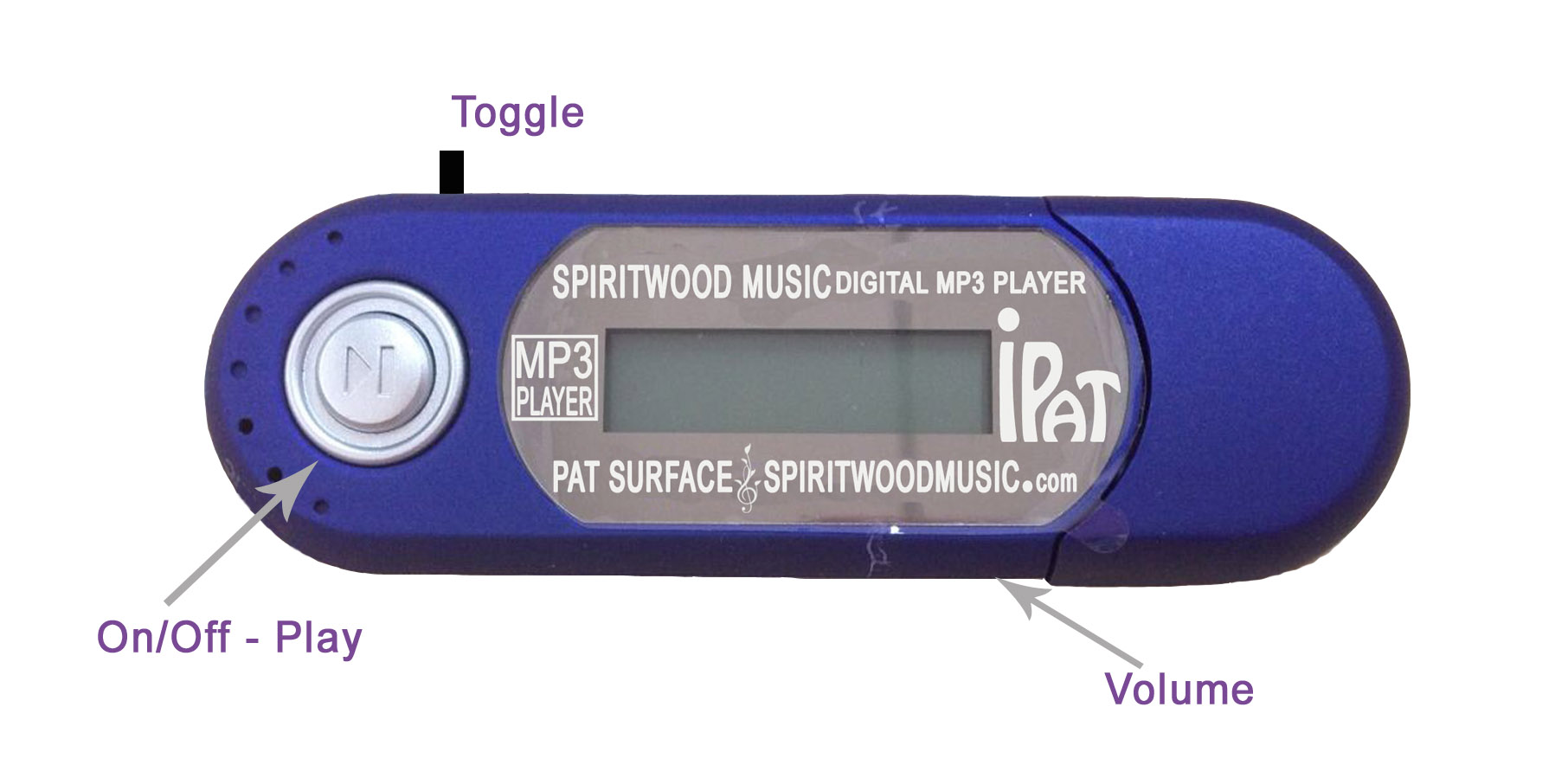 A menu appears. Don't do anything with it right now.
To Play The Music:
On top of the iPat is a toggle. It moves left or right - and down into the iPat.
Push it straight down, not left or right. The screen will then say 'Please wait.'
Then you will see a track title appear there.
Push the On/Off button on the left again (don't hold it down)
and the track title moves as the song plays.
Push that button to stop the music.
You can move the toggle left or right to advance the tracks or go back.
Volume control is under the unit.
To Turn Off The iPat
Hold down the On/Off button on the left. Screen will say 'Bye-Bye.'