Burn Fat For Fuel - Donna Michaels-Surface, ACSM, CPTS
An essential health/nutrition/fitness guide for anyone who wants "a little behind in a big hurry"
A comprehensive collection of empowering "tricks of the trade" on eating and exercise
A body-changing power tool
Improve your overall fitness while you burn fat, firm muscles, and eliminate bloat

Humorously

written and underscored by the author's own dramatic experiences
A myth-busting book that will startle, anger, and then motivate you to get off that hamster wheel and on the right track to vitality, health, and smaller jeans
Cover to cover bulging with useful and vital information you can really use and refer to again and again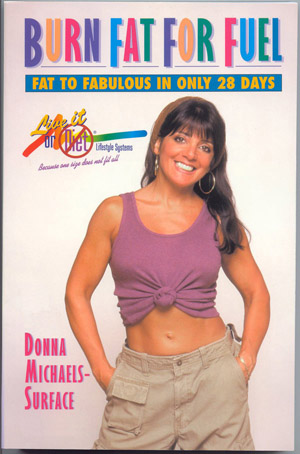 ---
The Fort Lauderdale Sun Sentinel dubbed her "The Anti Diet Guru."
The Fargo Forum wrote: "…she is going in fighting…waging a war against the diet industry…"
The Park Rapids Review Messenger wrote: "…looking 20 years younger than her age, Michaels-Surface lost 50 pounds—12 times…and is dedicated to helping people find sanity in a diet-depraved world."
The Mesabi Daily News wrote: "Donna Michaels-Surface wants to empower people with knowledge…wants others to keep from ruining their health as she did…"
The Ely Timberjay wrote: "…Michaels-Surface says the diet industry is killing us…she herself nearly lost her life trying to be skinny."
The Grand Rapids Herald Review wrote: "…It has been her mission to bring clarity to people who may be confused and fearful about the conflicting information out there…"
The Boca Raton News wrote: "…Michaels-Surface learned the hard way that one-size fits all diets don't work…and took 6 years to research and write her book…a beautiful woman who looks far younger than her years, her book is a testament to that…"
---
"After losing 50 pounds twelve times," Donna Michaels-Surface has succeeded in finding very important answers. A good-health-must-always-come-first approach has made Donna into the lean, curvaceous, glowingly healthy beauty she is today (in person she really does look 10-15 years younger than her years). I highly recommend this important book…a wealth of information, intelligently and clearly written, often with humor and disarming honesty--and always from the heart."
-James Braly, M.D. Author of Food Allergy Relief, Now! & Food Allergy and Nutrition Revolution
---
"Once you start this book…your self-confidence will soar on the wings of fitness as you learn to use facts and strategies that will help you reshape your body. If you wish to be a more compact, efficient, and intelligent person, then start to read this compact, efficient, and intelligent book. The author has lived it--and tells her story in ways that can help you change and improve your story."
-Sidney MacDonald Baker, M.D. Author of The Circadian Prescription & Detoxification And Healing