Hi!
Welcome to our new website. We are so excited about it, and we hope you are enjoying your navigating experience here. We want to thank Chris Ellerbrook of Ten80 North in Ely, MN for getting this going for us. Awesome to work with, he had the patience to teach this old dog new technology, enabling me to take the reins and manage this site myself. Please check back here frequently as I will be using this blog to update you on what's happening in our world of music and mischief.
Summer has finally coming to the Northwoods. Everything is green, the loons are calling, and there are diamonds on our lake here in Ely. And, we are getting ready for our busy Summer schedule. Please check our calendar so you can find us. Hopefully we will be in your part of the country, and we can connect.
We have a fun new music series to announce for this Summer.
Every Wednesday night Pat will be playing at the Winton Roadhouse. It is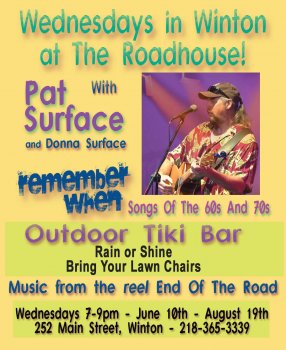 a very cool place at the edge of Ely. Friends of ours bought it, renovated it, and have brought their own special touches to it, making it very unique to the area. The food is amazing - seriously gourmet - great wine and beer selection along with a full bar - and yes, Pat on Wednesdays nights singing your favorite songs from the 60s and 70s. Check it out if you are in the area. You'll love it. Hope to see you there!
Also this Summer we are planning to offer our hit show, Remember When Magical Musical - back by popular demand - in Ely. Stay tuned for more information on that. In 2013 it was a sold out - standing room community happening. We have had so many requests to revive it. This time we are planning on a 2 night run instead of 1 to accommodate the demand.
Thanks so much for being here. We look forward to seeing you down the road.
Blessings,
Donna