Remember When - Their Unique Variety/Tribute Show About The 50s, 60s and 70s - Featuring hits from all of your favorite artists - not just one! Included is a special tribute to Woodstock (2019 is the 50th Anniversary of Woodstock!).
A short, entertaining promo video is below, and a sound bar with songs.
Feelin' Alright! A Tribute To Woodstock 1969
(FOR THE WOODSTOCK TRIBUTE SHOW AND A VIDEO CLICK HERE)
(Always Family Friendly)
For Booking Call Donna: 218-349-7908 Read about Pat here. Read about Donna here.
(Pat and Donna book directly - not through an agent - so they can work with your budget and coordinate calendars much more efficiently).
Our company, Spiritwood Music, is a registered record label that licenses all the classic music we play, and a corporation with liability insurance to indemnify the venues we perform in.
Pat and Donna, your Remember When Tribute Show/Dance was fantastic! You both were great and I have received raves from our members wanting you back. They had so much fun singing along, playing Name That Tune, and dancing. And your salute to Veterans and the Military at the end was very moving and much appreciated. We are looling forward to your return next season!
James Music - Club Manager - The Venetian River Club
(More Comments Below)
---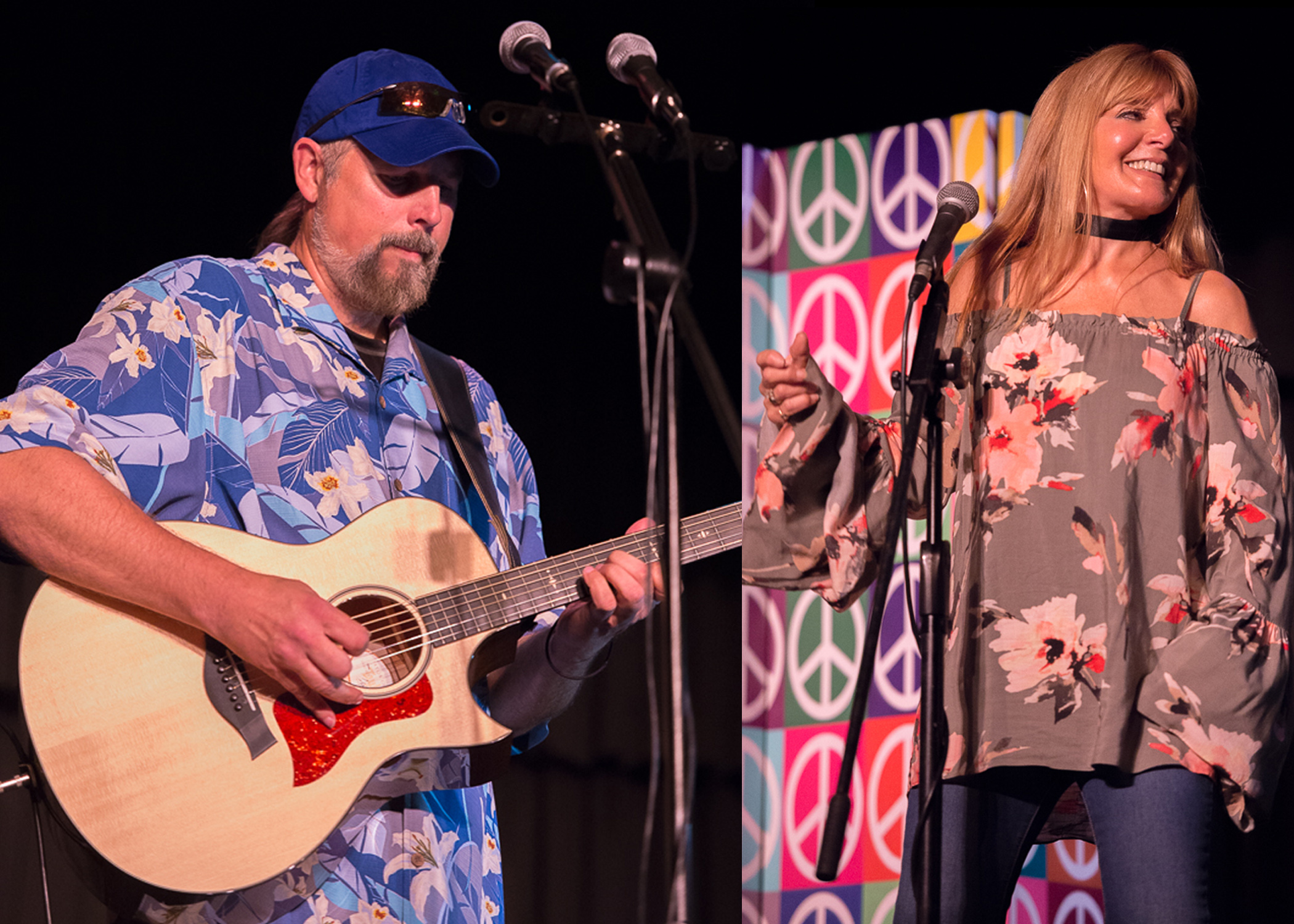 American Pie's popular variety show, Remember When, is a tribute to the hit songs and iconic artists of the 50s, 60s and 70s, woven with: riveting back-stories, relatable and hysterical husband-wife banter (think Sonny and Cher), Donna dramatically interpreting the songs with Performance Sign Language, interactive segments like 'Name That Tune' with prizes - and you, the audience - as you sing (and sign) along (Donna teaches the sign to 'Hallelujah'). Oh, yes, then there is Donna's dancing - (recalling the dances of the 60s) and connection with the audience as she runs around with her cordless mic. Fun!
And, cue - the band! Even though, with their 'duo show', they do not have their band physically with them (which fits this show into many more budgets) - the band is there - thanks to technology. In some of the show segments, great musicians are behind Pat and Donna on tracks (fiddle, pedal steel, bass, acoustic drums). The musicians that you hear in these recordings are their Grammy Award-winning band, The Boundary Water Boys. These are tracks that Pat produced and recorded with his band (not downloaded off the internet). And that is electrifying. Folks really appreciate that this is all Pat's music.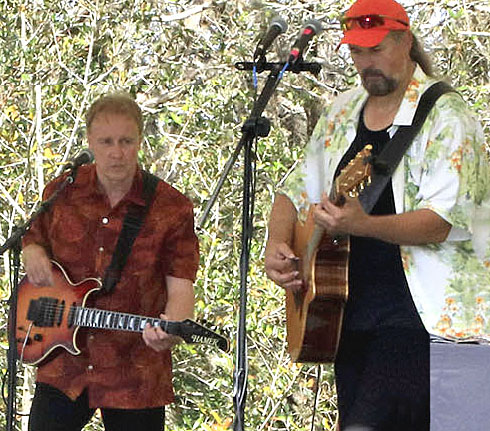 For Florida shows, we can include our incredible lead guitarist, Bill Marsh. (Read about Bill below.)
All-Star Show - There are many 'tribute' shows out there - Neil Diamond, The Beatles, Buddy Holly, Elvis, John Denver, etc. The great thing about Pat and Donna's show, 'Remember When' is that it is a tribute to a variety of timeless music and beloved artists of the 50s, 60s and 70s. They perform the hits from all of them, not just one. Included in the show is a Woodstock Tribute - celebrating its 50th Anniversary in 2019. Folks love that. The Remember When All-Star Show is a 2 hour show packed with entertaining and theatrical segments.
Special Events - American Pie is often the entertainment for special events in communities and at country clubs. Many events have been constructed this way: Happy Hour/Gathering - Pat plays mellow acoustic classic favorites - singing with his guitar and taking requests - during dinner they play their beautiful instrumental music - after dinner they perform their show (fun and interactive) - then they can move into dance music with their band on tracks.
For entertainment for your community's events such as 'pot lucks,' Pat and Donna offer a shorter show that will fit into your event's budget.
Dance Set - Sometimes communities request a dance set following the show, and because the band is there there with Pat and Donna (on tracks), they offer that option as well.
Add Members Of Our Band - Call Donna to discuss your budget if you would like to add Bill Marsh in Florida, and in the Mid-West - one or all of the Boundary Water Boys.
If you read Pat's story, you know that he was abandoned as an infant and eventually adopted into a family with a music legacy that dates back to William Boyd (Hopalong Cassidy - The Singing Cowboy) - the LaPlants - and brought to Grand Rapids, MN.There, he grew to 6'8" tall and became an all-star basketball player and college coach.
Then music called, and in 1987 Pat hit the road as a full-time touring artist. While on tour, he met his wife, Donna - an actor, singer, dancer, and Performance Artist in Sign for the Hearing Impaired from New York - and at only 5'0" literally the 'wind beneath Pat's wings.' Blend Pat's rich, mellow voice, finger-style guitar, and easy-going, folksy Minnesota demeanor with Donna's New York City energy, quick-wit, and 'more moves than a can of worms' - and you have a dynamic duo along with non-stop entertainment.
So bring Pat and Donna to your community in a show with a really cool vintage vibe - with singing and dancing - and audience participation. (Again, for larger budgets we can add musicians from our band - see Bay Breeze comment below).
Cut through the hazy marching of time and bring the past back into focus... Remember When.
Please read the comments below to fully understand the show experience from the perspective of audience and entertainment committee members.
(Pat and Donna also offer a Gospel Show - Hallelujah)
They bring props, sets and colorful led stage lights - and can supply a sound system if needed. Addiitonal musicians can be added if your budget allows.
Check out our promo video. (Click on the box between HD and Vimeo for full screen.)
Bill Marsh - Lead Guitar
Having played professionally since age 12, Bill has enjoyed a diverse career as a busy Nashville musician (including playing 
at the famed Bluebird Cafe), and a lead guitarist for touring groups throughout the US and abroad. His iconic guitar leads 
blow audiences away. Bill has established a parallel career as an aerospace engineer, putting rockets into space at Cape 
Canaveral. Who said music isn't rocket science?

---
Read the fabulous comments below!
Listen To A Sample Of Our Music
King Of The Road - Sounds Of Silence - Feeling Groovy - Peaceful Easy Feeling - If You Could Read My Mind - Homeward Bound - Horse With No Name - Can't Help Falling In Love - It Doesn't Matter Anymore - What A Wonderful World
---
Thanks for keeping this music alive, Pat! Keep on...
Pete Seeger
As an audience member at the Historic Ironwood Theater for Pat and Donna Surface and the Boundary Water Boys, I felt a palpable exchange of energy between those of us in the seats and the very engaging performers on the stage. I even felt at several intervals that I was part of the show.
It was a warm and friendly atmosphere featuring nostalgic tunes we could all sing along (and sign along) to, and original tunes by Pat. Several of Pat's originals were performed in front of the theater's impressive screen as it showed videos dramatizing the lyrics in the songs. And speaking of dramatizing lyrics, Donna Surface (a Performance Artist In Sign) offered us her interpretation of the music in American Sign Language, movement and mime. Not knowing what to expect of this aspect of the concert, I was drawn into Donna's compelling and moving part of the Boundary Water Boys' show.
And it is in fact a show. It was a night of music, yes, but it was a variety show in the old sense of the word, like you used to find on TV back in the day. Music, humor, dazzling video, in a lively and entertaining show.
Pat Surface, at the helm of this unique group, has an incredible voice that can wrap around any style of music - and he and his award-winning band of impressive musicians performed for us many different styles of music (including folk, Celtic, bluegrass, swing, blues, Gospel) in their signature fusionstyle. Their concert was a feast for the eyes and ears that made for a fun and memorable evening at the theater.
Daily Globe - Ironwood MI
Thank you so much for such a great show. I have heard nothing but positive reports. Everyone loved it. We love having you at our park.
Rachel - Harbor Isles, Northport FL
What a great show!! Donna, you did a masterful job of assembling that group of songs and putting together a show that was enjoyable from beginning to end. It showcased Pat's wonderful vocal talent and the abilities of all of the performers brilliantly. It flowed perfectly, had humor and style, and never dragged for a moment! That's theater!
Lynda, Anna, and your MI Fans
Hi Pat and Donna... You were a big hit last night. People absolutely loved it. Thank you so much. I feel like my life has been blessed just by getting to know you. I'm passing the word around about your entertainment.
Linda - Chateaumere at Pelican Bay
Remember When was the best show we have ever had at our community. We wanted your show to go on all night. Everybody has been contacting us about how much they loved you both and your show, and they want you back. The music was incredible. And the Performance Signing was a great surprise and such a wonderful addition (we have many people in our community who use sign language). Great variety entertainment! We have now booked you for our All-Star Show next season - as well as for our New Year's Eve Party 2019! We cannot wait for you to return!
Entertainment Committee - Harbor Isles - Venice, FL
When our committee saw Pat and Donna at a showcase, we all gave them 10s and booked them to perform at our community. Their show was wonderful. Our residents said it was the best show we've brought to them. Funny, fun, great familiar music - lots of sing-a-longs. And Donna's contribution was unique and very touching and entertaining. We want to bring them back (and it is our policy to never do that - but our residents have spoken).
Lake Region Village - Haines City, FL
We loved your show! There were over 200 people in this room and you could hear a pin drop. You had us all every moment. You made us laugh. You made us cry. The journey back in time you took us on was incredible. All of these songs that we don't get to hear anymore and forgot how much we loved brought back so many memories. We were all singing along. It was so much fun! The love beads! The comedy! Your voice, Pat - it is so beautiful! And your signing, Donna - we have never seen anything like that - it was mesmerizing! You both really knew your audience. We have had shows here that missed who we are - a 55+ community. Your show was perfect entertainment for all of us. We didn't want it to end. We could have stayed and watched you all night! Thank you so much for bringing your special talents to our community. We hope you come back!
Stone Creek - Ocala, FL
Thank you so much for bringing your incredible show, Remember When, to our community! It was so much fun. We loved playing 'Name That Tune' and getting our love beads. And the Folk Rap - Puff The Magic Dragon Rap - that was hysterical! We loved singing along with you, Pat - songs we love - and learning how to sign 'Hallelujah' and signing along with you, Donna. It was our favorite show of the season. Please come back.
Sarasota Bay, Bradenton, FL
Pat and Donna's show is like nothing else we have ever booked in our community. It is a SHOW with our favorite music and humor and stories that took us back. Pat's singing is amazing, and Donna's signing is riveting. And together they are a funny and relatable married couple who we all got to know and love.
Village Green - Vero Beach, FL
Pat and Donna - I must tell you of the reaction I got, about your performance, from the fifty guests at our party at the club this past weekend. I can't recall a party where everyone went on and on about how much fun they had. I must have gotten an e-mail from every couple, all expressing the same thoughts. The sing alongs, the 'Name That Tune' game (with our love beads prizes), and the fantastic music (with your incredible Boundary Water Boys band tracks!) that had us dancing - all contributed to making it so special. Our sincerest thanks...
John Marnocha, MD Bonita Bay
Pat and Donna did an awesome job here at Cloverleaf. Everyone loved it - we heard 'best show of the season' repeatedly. Unique and refreshing. And best of all - Pat's is REAL music - that HE is peforming. Not canned back-up like we have seen and heard so often. Love it.
Cloverleaf Farms - Booksville, FL
Hello Pat and Donna, Thank you for coming to Austin and sharing your wonderful music, your good humor, your sign language, your enthusiasm, your necklaces, your CDs and so much more. I also think Pat has one of the most easy listening voices there is. It is smooth, clear, and easy to understand. What an awesome show.
Larry Dolphin - Hormel Nature Center, Austin, MN
It was our pleasure and a privilege to meet you both. We loved the show. We feel that having folks like you touch our lives in such a positive way, is certainly a blessing. We are really looking forward to your return engagement.
Venice Isles - Venice, FL
What can I say about your performance? It felt like a walk down memory lane with good friends. It was entertaining, fun,.....the kind of show you want to last forever. The only negative of the entire performance was that it had to end.
Betty Valley - Director, St. Louis County Fair
We loved your show this season. It was so much fun, we just booked it for next season - and we never book shows 2 years in a row. All of our residents want you back asap. Thank you!
Ridgewood Meadows - Ellenton, FL
"Remember When" was a huge hit! Our audience loved hearing their favorite songs from the 60's and 70's. Pat Surface's voice is rich and beautiful, and the entire show is woven with great songs, wonderful stories, and fun doses of humor to make for a wonderful musical journey.
Amy Stoller Stearns - Executive Director, Historic Holmes Theatre, Detroit Lakes, MN
To only the best performers/entertainers I've been blessed to see and hear - Took in your Remember When show in Detroit Lakes 7.14.16 - came home full of joy, contentment and peace. When Pat sings it is like warm maple syrup being poured on pancakes. And the beauty of Donna as she glides across the stage is like a flower opening up at sunrise. I just can't find the complete verbiage to describe how you affected the audience and myself. I wish you all the best always!
Jan - Detroit Lakes, MN
I had the pleasure of running spotlight for your performances at Hostfest.. and I have to say you guys were hands down the most memorable show there.. and Ill never forget the sign for Halleluja :0!
Echo - Norsk Hostfest, Minot, ND
We booked Pat and Donna and the Boundary Water Boys for our Bay Breeze Concert Series in 2016. Due to what we can only describe as OVERWHELMING DEMAND we booked them again in 2017. We immediately received calls to have them return in 2018. Our community loves this band and their show.
Jennifer Moening - Asst. Director of Community Activities - Bonita Bay, Bonita Springs, FL
If you are looking for the perfect way to enhance your event or spend an evening, you will find it in Pat Surface's unique way of entertainment. Be ready to sit back and relax and take in Pat's story, woven with his music of the 60's and 70's, and a great sense of humor. Now add Donna's Surface's simply beautiful way of signing to Pat's music and rapport with her audience. You now have the recipe for a truly memorable event or evening.
Try it. I guarantee you will be hooked!
Elizabeth (Liz) Melting - Executive Secretary, PATH Administrative Services - Families Making A Difference
Pat and Donna's show Remember When is a unique, entertaining, refreshing and interactive event. Our members loved it and we have booked them again. A perfect evening's entertainment for residents and members of any community and club. Book them.
Bo White - GM, Charlotte Harbor Yacht Club
Pat and Donna put on a great show called "Remember When" that was superb. The interaction with the audience was very well received. The most common and frequent comment I received after the show was, "That was a Great Show"! If you like nostalgic, family friendly folk music, then this couple will certainly not disappoint your audience.
Dave Graber
Entertainment Chairman for Bahia Vista Estates
Sarasota, Florida
Dear Pat and Donna, Thank you for the wonderful program. Everyone was thrilled with your performance! The loving relationship you share as a couple was as beautiful to see as your program.
Sincerely, Shirley DeJean - Venice Isles
All of this iconic, nostalgic music is recorded on Pat's Remember When / Songwriter 7 CD Collection of - 60s, 70s, (& 50s) songs - on Pat's record label, Spiritwood Music. 90 songs. Nearly 7 hours of music. And no song is repeated!
Check out the collection here.